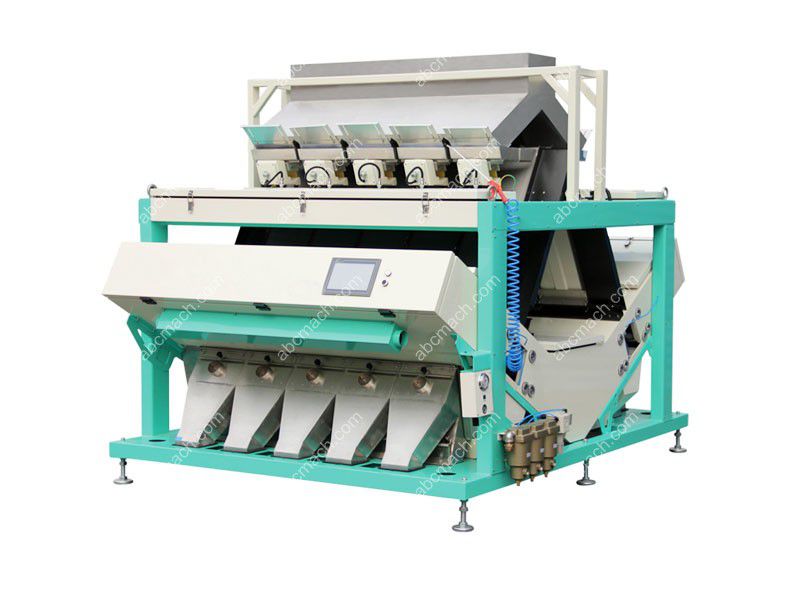 This color sorting machine (color sorter) is common equipment for flour grinding. It is designed for photoelectric color selection of grain processing, including rice, corn, seeds and soybeans. It can effectively eliminate the color difference of grain, and remove the grain with strange color. After photoelectric color selecting, you can get good and high purity grain with normal color.
Color sorting is generally after grading process. Then, depending on the grain quality and quantity you can decide to choose complete color sorting or partially color sorting.
Yes! I am Interested!
Ask for Price
Details:
Examples of Sorting
You can view the examples of sorting through above pictures. (First Line: before sorting; Second Line: after sorting;)
Product Name
SKC T-2 SE Ⅱ CCD
SKC T-3 SE Ⅱ CCD
SKC T-4 SE Ⅱ CCD
Model
6SXZB-126II
6SXZC-126II
6SXZB-126II
6SXZC-189II
6SXZB-126II
6SXZC-252II
Production Output(t/h)
0.3~1.5
0.5~2.5
0.8~3.5
Sorting Accuracy(%)
≥99.6
≥99.6
≥99.6
Carry Ratio (BAD:GOOD)
≥5:1
≥5:1
≥5:1
Weight(Kg)
670
820
970
Smallest Resolution(mm2)
0.04
0.04
0.04
Power (kW)
1.4
1.8
2.2
Qualities Promises
(ONE YEAR)
(ONE YEAR)
(ONE YEAR)
Dimension L×W×H (mm)
1320×1500×2253
1660×1500×2253
2020×1500×2253
Radrate Heat Way
WIND COOLING
WIND COOLING
WIND COOLING
Power Supply
(Voltage/Frequency)
220V/50Hz
220V/50Hz
220V/50Hz
FOB China port
56,370
59,825
63,235
Below are the features of this color sorter for grain processing:
High Resolution CCD System
Adopt colorful CCD image acquisition system, realize the achieve of red, green, and blue material color, the color selector has the sense of human feeling, with material selection more real, accord with your request.
The highest resolution is 0.15 mm, precise identification of each sesame seed color, high precision of special lens to guarantee image clearly and accurately,
Special Image Processing Method
For small particles of sesame, using special process, combined with red, green, and blue color, in color space to analysis and classification of material, which ensure accuracy of material identification.
High Quality Solenoid Valves
High quality imported solenoid valve, precise control of air flow and direction, eliminate the material more accurate, greatly improving eliminate rate.
The Unique Feeding System
Special feeding system to ensure the uniformity of material flow, and also reduce the material move up and down to achieve the best image acquisition and eliminate effect.
Excellent Eliminate Rate (Carry Ratio)
Color high resolution CCD system + special image processing +high quality nozzle system =excellent eliminate rate
Simple Operation and Easy Use
Concise optical system design, and precise automatic correction system, which combined elaborate design interface that greatly simplifying the machine commissioning and use of complexity, simple operation, easy use.
With the improvement of people's living standard, their requirement on rice quality is also increasing. Simply removing bran and impurities no longer meet the requirement of the market and consumer. Feel free to contact us if you are interested in our rice / soybean color sorter machine and grain grinding mill, or have any questions on grinding flour or wheat.
Get In Touch
24/7 Support
We receive enquiries in English, Español (Spanish), Русский язык (Russian), Français (French) and العربية (Arabic) . Our professional team will reply to you within one business day. Please feel free to contact us!