Starting biomass fuel business by setting up biomass pellet production line has been a trend across the world. Many people who are insightful and ambitious regard it as a worthy investment project and seeking cooperation partners to complete it. ABC Machinery is a pioneer that started to designing, manufacturing and supplying biomass processing equipment at its very early age. Now, we has been developed into a large and reliable biomass pellet mill manufacturers in China. We welcome the friends from all over the world to visit us!


Investing on Wood Pellet Production
Small Portable Wood Pellet Machine
A large variety of wood pellet production machines are available in the market. These machines are specialized to convert raw material such as sawdust, wood shavings, etc. into wood pellets of different diameters. A variety of models of wood pellets are manufactured for sale. Wood pellet mills have different capacities and sizes. Based on its capacities, they are either used for commercial purpose or for personal use. (Read more: Pellet Making Machine for Sale >>)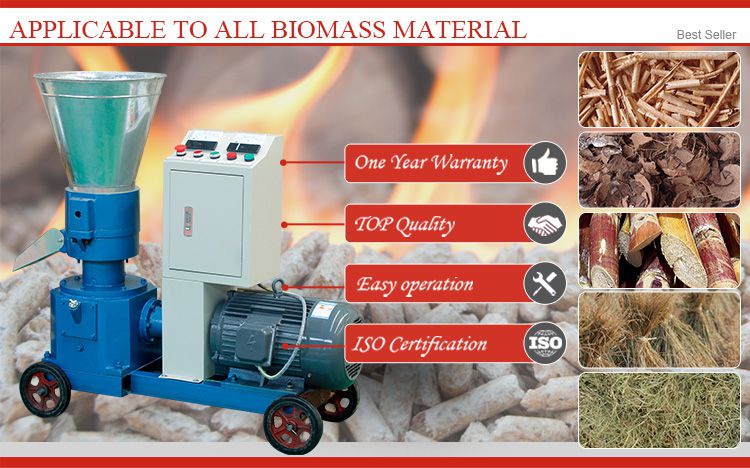 Portable Wood Pellet Machine
Portable wood pellet machines are used for small scale wood pellet production. In this type of pellet machine flat dies and rollers are used. It can be operated through electricity, gasoline, diesel, etc. The production capacity of portable wood pellet machine ranges from 60kg/h~800kg/h.


Small Portable Pellet Wood Press for Sale
The reason it is called portable wood pellet press machine is it has a small size as compared to many other pellet making machine. This is why it is lighter in weight and can be transferred from one place to another quite easily. (Latest news: Small Portable Pellet Mill Purchased by Armenia Customer for Pine Wood >>)

Applications of Small Portable Wood Mill
This portable pellet mill can be used to make wood pellets for animal bedding, stoves, heating, etc.
A variety of raw materials can be processed through it due to which it can also be used to manufacture feed for animals and birds.
It has a small size due to which it is more suitable to be used for small scale production of pellets in small industries and homes.
If you are interested in buying a small pellet making machine for trial use, our portable wood pellet mill is a great choice due to the inexpensive price and flexible performance. Just massage us your requirements to get the latest quotation!
Mini Portable Wood Pellet Press Machine for Sale - Electrical Type
| Model | Capacity (kg/h) | Power (kw) | N.W./G.W. (kg) | Package Size (mm) |
| --- | --- | --- | --- | --- |
| ZLSP200B R-type | 80-120 | 3phase, 7.5 | 215/245 | 950*450*1050 |
| ZLSP300B R-type | 250-350 | 3phase, 22 | 540/575 | 1350*750*1400 |
| ZLSP400B R-type | 350-450 | 3phase, 30 | 770/810 | 1400*800*1450 |
| ZLSP550B R-type | 500-800 | 3phase, 55 | 1770 | 2300*750*1850 |
Portable Wood Pellet Machine Structure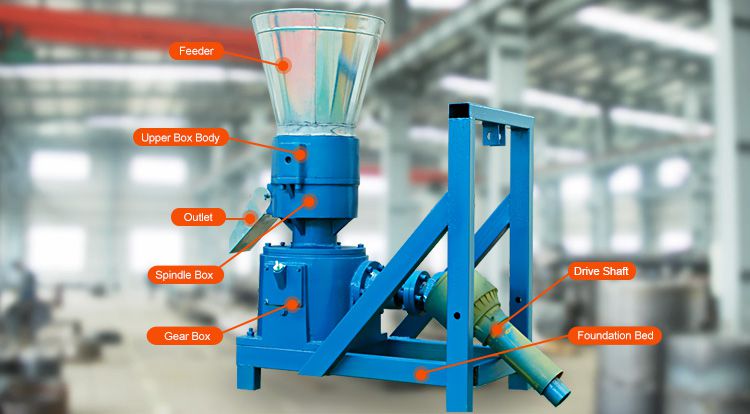 Small Portable Pellet Making Machine for Sale
Hopper: Raw material is fed into the machine through this part. It is made up of thicker material to make it reliable and durable.
Flat Die and Rollers: Flat die and rollers are the main components of portable wood pellet machine. Roller presses the raw material and makes it get into the holes of flat die. Due to this compression they come out of the holes in dense and compressed forms.

Small Wood Pellet Machine Spare Parts
Main Box: Main box decreases noise production and gives machine a sturdy form.
Lubricant Circulating System: Lubricants are added in raw material to manufacture pellets of good quality. Lubricant circulating system distributes lubricating agent throughout the mixture and makes it homogeneous.
Control Panel: Different switches like stop switch etc. are installed in portable wood pellet machine. They provide protection to the machine from getting damaged.
Motor: Different power options are available in portable wood pellet machine. Commonly available options are electricity, gasoline, and diesel.

Buy Small Pellet Mill to Set up Portable Pellet Plant
Why the investors choose to invest wood pellet processing plant , because the raw materials for pellet manufacturing is very extensive, and raw materials are mostly is agroforestry wastes, the investment cost is very low, investing on a small portable pellet plant can not only make waste can reasonable use, also can reduce the accumulation of agroforestry wastes. Most importantly, it can also bring great profits.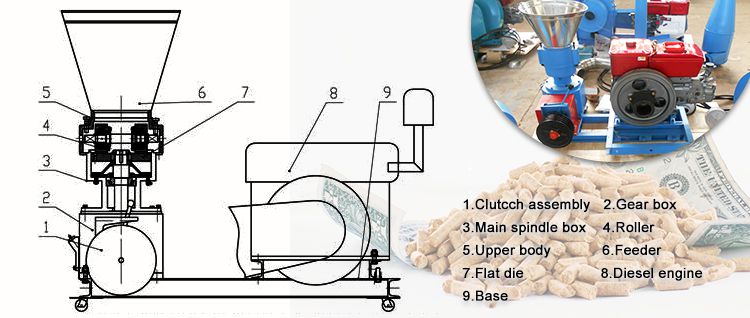 Setup Portable Pellet Plant
ABC Machinery offers customized factory business plan to help you build your own wood pellet production line. In addition, we are also in charge of equipment selection, manufacturing, installation and commissioning. Welcome to contact us to get the project cost and equipment price list!

Buy Portable Pellet Mill from ABC Machinery
Customized mini portable wood pellet machine from ABC machinery – factory price small portable pellet press for wood sawdust pellet making: buy portable wood pellet machine from biomass pellet mill manufacturer or supplier at factory price, get FREE technical instruction of wood pellet production process and business plan to set up portable wood pellet plant project in The Czech Republic, Guatemala, South Korea, Japan, Thailand, Indonesia, etc., at low cost.
Noteworthy Features of Portable Wood Pellet Machine
It consumes less energy yet produces large number of pellets in less time. Its simple structure makes it easy to operate.
It is less expensive than many wood pellet making machines and has a low maintenance cost. This feature makes it ideal to be used for small scale wood pellet production.
Different options of energy are available which make it more suitable for areas that have shortage of electricity. In those areas diesel or gasoline energy can be used.
Its small size and light weight make it easy to transport and deliver to its destination. It also takes less space in a work place.