New client in Guatemala ordered our YZS-30 sesame oil making machine for making small scale sesame oil (jinjili oil or teal oil). Below are some photos of the machine in the order, taken before in factory before delivery to Guatemala. View these pictures to seam more details of this small sized seed oil making machine.
YZS-30 Expeller Machine for Sesame Seed Oil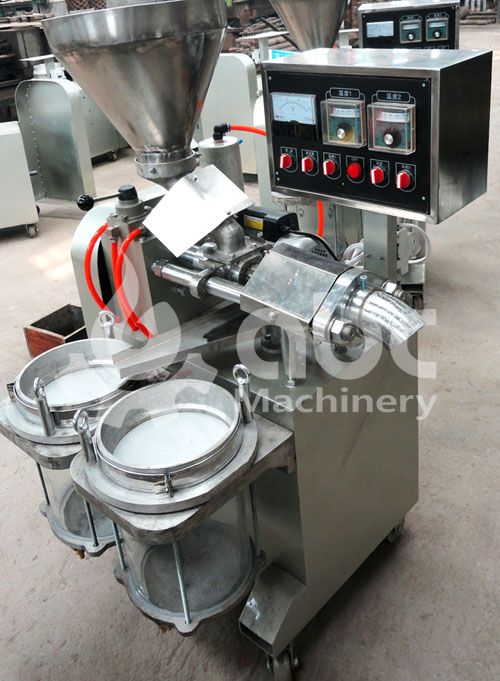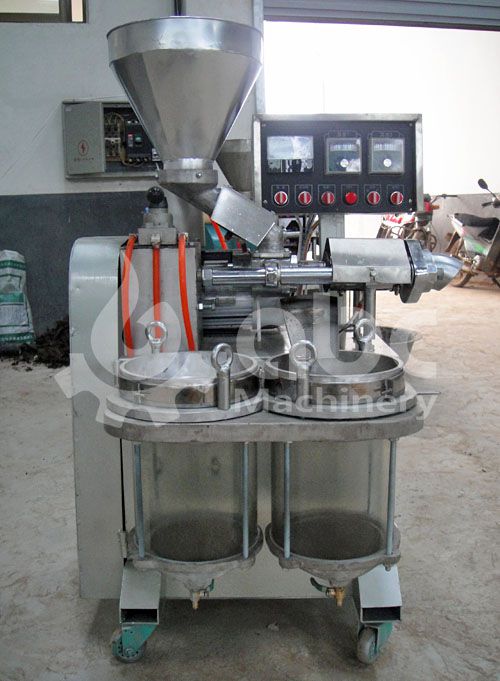 Model : YZS-30
Diameter of shaft : 37 mm
Rotating Speed of shaft :60-70 rpm
Inner diameter of pressing case : 38 mm
Production Capacity: 15-- 20 kg/h
Dry cake residue : ≤8%
Motor : 1.5KW (YC90L-4)
V-belt :1050 B TYPE
Net Weight : 156 KG
Dimension : 700×700×1200 MM
The YZS-30 oil expeller is suitable for processing sesame oil and walnut oil for immediate consumption. It is featured of compact design, efficient oil producing, easy to move around and operate. It is an integrated expeller which combined oil expelling and filtering. It is ideal choice for those who want to start mini sesame seed oil making business. It is suitable to be used at a vegetable market or even at home. The residues of sesame oil processing can be used as forage or fertilizer.
Features of The Small-sized Sesame Oil Making Machinery
This machine is a kind of hot oil press. When the sesame oil making machine is hot, feed 0.2~0.4kg raw materials into the machine.


Sesame Seed Oil Manufacturing Machinery Details
I'm interested in a small seed oil press for home use. I intend to press sunflower seeds and sesame seeds. I am in Puerto Rico.
Could you inform us the capacity(kg/h) you need? Then we send you the quotation and details.
Dear sir , can you give prief information of small sesame oil production, say of 1 ton per day.
Thanks for your attention to our oil press machine.Email attached is the quotation of 1TPD sesame oil extraction machine for your reference.
The YZS-70 oil press machine is recomended for you.
I am looking for oil expeller machine. For groundnut and sea same oil. Looking for urur YZS-30 & YZS 60 please send me the quote for both type machines.
Thanks for your attention to our oil press machine.
Email Attached is the quotation of YZS-30 & YZS-68 oil press machine for your reference.

PS: YZS-60 is stoped production.
how much is your small oil refining line, and small pressing machine, is this machine enough to produce cooking oil.

HOW MUCH IS YZS 30 i think this the machine we are looking.

Attached is the YZS-30 oil press machine quotation for your reference. Pls check it.
We inquiry for our pet food produciton your oil press machine. Please, give us your price offer of oil press machine type: YZS - 30. Do you deliver as well as to the Czech Republic?
Of course we can delivery the machine to Czech Republic. Attached is the quotation of YZS-30 stainless steel oil press machine CIF to Prague quotation. Pls check the YZS-30 oil press machine is ok for you or not.
I need a machine to oil my wallnut and apricot nuts. Please help me where. I could get this in Pakistan as i belong to Pakistan. Your response would be highly appreciable and valued.
Could you please inform the capacity(kg/h) you need?
Then advise you the suitable oil press machine type.
Thankyou for you quick response. 1st of all i need a machine for my home for my personel use. after checking that i want to sale your product at my town as no one knows here that there are easy machine to oil diffrent seeds.please do share me the pictures and capicty of machine.
Thinking about you use the machine for home.
So we advise you the smallest oil press machine with filter: YZS-30 oil making machine. The YZS-30 is completed stainless steel.
Glad to hear you have plan to sell the product in your place.
Hi, I would like to the shipping cost of the model YZS-30, deliver to dublin, Ireland.
I have confirmed with our forwarder the shipping cost to Dublin,Ireland: 35USD.