The manager of our R&D Team and Sales Team went on a business trip to Indonesia from August 19th to September 2ed, 2018. The primary purpose of the visit was to gain a deep understanding of biomass fuel pellets manufacturing, grain milling, and palm oil processing market. Indonesia is well known for its wood and palm oil resources. And it has an amazing market for our pellet mill and oil extraction machines.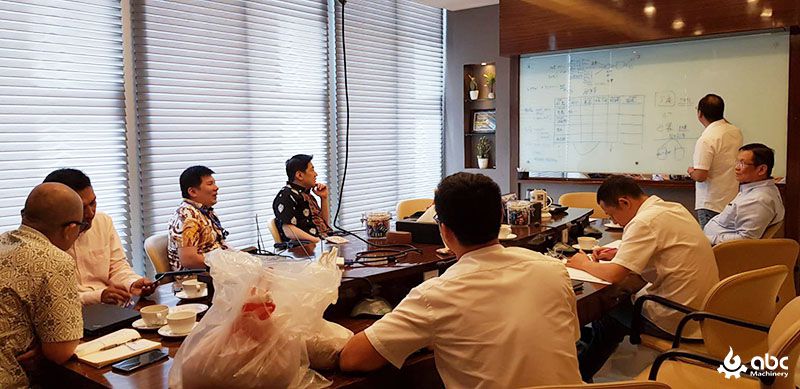 Business Meeting with Our Clients in Indonesia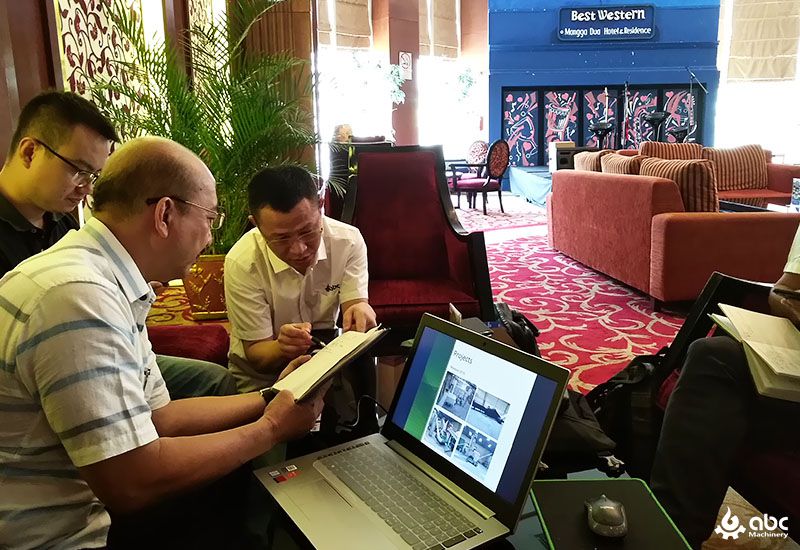 Project Plan Discussion


Local Wood Pellet Plant Field Visit

The team did a fantastic market analysis and evaluations besides a fruitful discussion with potential clients drown from local cooperate companies. Our clients were pleased with our achievements, and thus welcomed our move to study their market base. Some of our clients placed the order on the spot after they checked the business plan we offered. In sammary, the visit bore more benefits than we could have imagined. The friendship we have built and our in-depth analysis of the Indonesian market will boost the sales of our equipments and our client's.
Indonesia Palm Oil Market Analysis & Outlook


Palm Oil Plantation in Indonesia
According to the 2014 energy decree, the consumption of Indonesia palm oil is expected to be half of food and bio diesel consumption by the year 2025. This is an indicator of inability to serve global consumer needs due to non increase in Indonesia palm oil exports. A comparison between 2015 and 2014 bio-diesel implementation expectation indicates a 10%~20% transport power under target. The lifting will provide extra funds to be used to relieve subsidies on the poor. Again, the fossil fuel and palm oil cost will be better balanced to improve prospects which calls for policy priority. (Related News: 20TPD Crude Palm Oil Refinery & Fractionation Plant Exported to Nigeria )


How to Start a Palm Oil Processing Facotry ?
Referring to the oil palm plantation, a fall in new areas expansion from 350,000 ha per year in 2015 to 150,000 ha by 2025 is expected. Land map remains a challenge even though spatial mapping is under the responsibility of the ministry of public works. The 110 million ha area map owned by forestry should be redone and finalized by 2015 to clarify land that can be cultivated and which can be for other uses. However, the government is expected to delegate and set foreign ownership.
Indonesia Biomass Energy Trend


Biomass Energy Resources Suitable for Making Biomass Pellets
Sources of Biomass fuel in Indonesia: The main sources of Biomass fuel in Indonesia are Palm Oil Residues, Rubber Wood, Sugar Residues and Rice Residues.
Energy requirements increase with economic growth and activity. Indonesia normally produced oil, coal, natural gas and pail oil to meet its energy requirements. However, there is a reduction in Indonesia's current oil supply which is cause for major concern. The country experiences a high energy demand especially among households and in the transportation sector which is expected to continue. With a decline in the current supply, Indonesia must find new ways to meet its energy needs. This is to ensure the continued growth and expansion of the economy. (Project Reference: 1.5 ton per hour Oil Palm Fiber Pelletizing Plant Set Up in Malaysia )
Indonesia's energy shortage is also highlighted by the fact that many persons still use biomass energy in their homes. Approximately one third of its population does not have access to electricity. Due to the increasing fuel demand, the government has made changes to laws and policies to ensure the use of renewable sources of energy. Diversification is the key characteristics of these policies to reduce dependence on the traditional energy sources. An increasing amount of energy requirements are now being supplied by renewable sources of energy. Renewable sources of energy include Biomass fuel, wind power, solar power and hydro- electricity. There is also an effort to make policies that will aid in greater energy conservation.



Biomass Pellets Manufacturing Industry
Bioamss pellets are made from sawdust, wood, rice straw, rice husk, residual sugar cane, palm trunks and other materials. They are used in electricity generation and for providing residential heating. Wood pellets are a traded commodity with many countries engaged in its production. Pellets are used in the commercial, residential and industrial sectors. The benefits of using wood pellets are many. It provides a constant supply of renewable energy and it is environmentally friendly. They are also easy to store and transport.